Accommodation
Each cat has his or her own roomy compartment in a well-ventilated, indoor environment, where their sleeping area is protected from threat by other inmates by solid walls, but they can see out the of front and upper part of their kennel. We provide beds and cardboard boxes to hide in for extra privacy, located on a raised shelf, but your cat can bring his own bed or blanket if you wish.
Food
The cats have the choice of tinned food (several varieties kept in stock) or kibble (dried food). Fresh water is available all the time. If a cat is a bit shy and unwilling to start eating we try him or her with sardines, chicken or anything which might get him started!
Health, Hygiene and Insurance
A specially formulated non-toxic kennel disinfectant is used so that it need not be totally removed, and all surfaces are protected from infection at all times. The cats have litter trays changed twice daily, and long-haired cats can be groomed as long as they give their permission! Your animal's own Vet will be called in case of illness, as long as they are not too far away. During their stay the animals' Vet's bill is covered by our Insurance (subject to the conditions as stated), and all animals must be accompanied by an up-to-date Vaccination Certificate.
Keeping Happy
We have discovered with experience that what cats need when they are away from home is a protected environment where they soon feel secure and become familiar with their surroundings. In our cattery, the cats are not threatened by the busy comings and goings of the outside world. The person cleaning and attending the Cattery makes sure that every cat gets personal attention and a cuddle if they are so inclined, so that your cat makes a relationship with someone so that they don't feel isolated and abandoned. Cats are far more sensitive than people often think, and need plenty of tender loving care.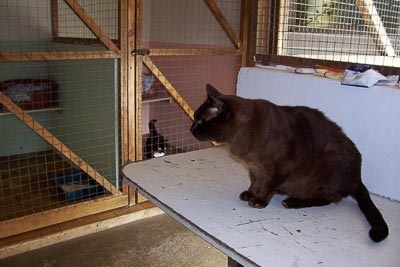 Finally ......
The methods we use are not the cheapest way to run kennels and a cattery – in fact they are very costly in materials and staff time. But we know that your dogs and cats are the most important thing to you after your family, and that they need the best care. So we aim to give it. We would want it for our own pets!